The birth of e-commerce has brought about a dynamic change in payment modes over time. POS terminals market, influenced by this very revolution, has been gaining mass popularity since the last few years, given the widespread adoption of cashless facilities. The growing popularity of NFC and card payments among the consumers will also serve to enhance (point-of-sale) POS terminals industry share. Nowadays, to reduce the hassle of carrying cash, people have been shifting their focus toward the adoption of POS terminals, which has led to the massive expansion of (point of sale) POS terminals market. In 2016 alone, this business space collected a revenue of USD 40 billion.
For increasing the adoption rate of POS terminals, the governments of various countries as well as the key players in POS terminals market are arranging awareness programs that focus on explaining the benefits and usage of POS terminals. Financial service companies have also been deploying different types of platforms to attract merchants as well as consumers. Recently, Mastercard revealed details about their trial project in Poland, in which smartphones are deployed to carry out contactless payments. Through this, the POS terminals industry giant seems to be attempting to provide a simpler and secure way of payment to the merchants. As per a market research report, mobile POS terminals industry will record an annual growth rate of 20% over the period of 2017-2024, owing to the growing adoption rate of smartphones and mobiles.

China POS Terminals Market Size, By Application, 2016 & 2024 ($Bn)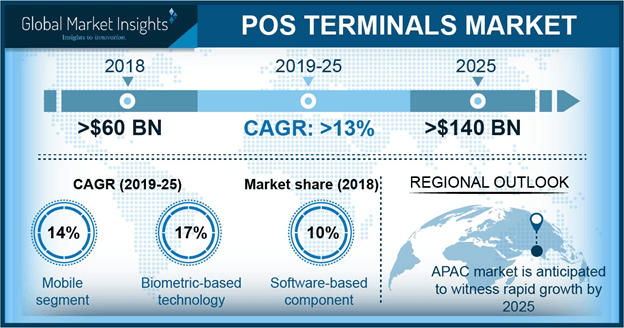 The participants in point of sale terminals market are strictly involved in intensive research and development activities to enhance the POS terminals focusing on the factors such as improved service availability, applicability of the product for small consumers and merchants, cost effectiveness, and minimum processing time. Also, some of the giants are busy in the deployment of modern technology with ample support from the regional governments. For instance, Mastercard has collaborated with the Poland government to create digital payment gateways using mobile devices. Speaking of which, some of the notable companies in (point of sale) POS terminals market include VeriFone Holdings, Inc., Panasonic Corporation, Zebra Technologies, NEC Corporation, PAX Technology Limited, Ingenico, Posiflex Technology Incorporation, First Data Corporation, QVS Software Incorporation, and HP Company.

The advent of IoT has led to the surging adoption of technology and the development of high standard software. Consumers have been expecting card-based transactions to occur within mere seconds. Conforming with consumer expectations, tech companies are heavily investing in tech innovations and advancements, thereby providing a positive boost to POS terminals market size over the years ahead. Pertaining to the implementation of connected software, consumers in the hospitality and retail sectors have deployed this product on a large scale, considering its functionality benefits and user-friendly payment options. For easy accessibility and flexibility of digital transactions, most of the users in retail and hospitality sectors are adopting cloud-based POS solutions, thereby impelling the overall POS terminals industry share.

Keeping eye on the exponentially growing retail market, HFC bank has partnered with Mastercard to strengthen its retail offerings. This partnership is a part of HFC's strategy to expand its services to banking institutions by providing debit cards to the clients, augmenting the POS terminals market. Retail point of sale (POS) terminals market will also grow lucratively over the coming seven years, taking into account, the surging penetration of e-commerce sectors across various regions of the globe. This product is becoming more popular in the retail sector pertaining to the capability of POS terminals to distinguish between different users, availability of real time dashboard, and user-friendly accessibility per transaction, which will suitably boost POS terminals industry share.

Recently, in India, the demand for POS terminals has increased tremendously after the mammoth demonetization policy introduced in 2016. Since then, the government has been promoting cashless and digital payments by giving incentives and promotional funds to the users. For instance, if a consumer uses the digital payment option for paying the amount of health insurance, then Indian government offers some discount on the total payment. To fulfil the surging need of POS machines for debit and credit card payments, the government had ordered a huge number of point of sale machines from the U.S-based POS machine manufacturer, Verifone Systems Inc. France based Ingenico and Verifone are counted among the major providers of POS terminals in India. As per the reliable sources, last year Verifone covered more than 50% share in India POS terminals market. After the demonetization policy implementation, the company witnessed a 5-multiplier raise in product demand for payment machines in November 2016.

Considering the scope of POS terminals, players in (point of sale) POS terminals market have been forging partnerships with leading giants to expand their business space. For instance, recently HD View 360 Inc, signed an agreement with Pizzafire to supply their POS technology terminals across the United States. The implementation of innovative ideas and technological advancements is thus, certain to bring about a renewed sense of dynamism in POS terminals industry.
Written By : Sunil Hebbalkar