The escalating digitization in the retail sector is one of prime driving forces of the retail (point of sale) POS terminals market. Considering the risks associated with traditional modes of payment, the governments of several countries are increasingly implementing regulatory norms to promote digitization in the retail arena. For instance, the act of demonetization in India has positively affected the growth of retail POS terminals industry share in the country between 2016-2017. In order to improvise on the effectiveness of national payment systems, the Central bank has also recommended the adoption of payment facilities such as POS terminals, RTGS, and online banking. Merely a few years ago, the Dominican Republic government had constructed an autonomous agency – the Social Subsidies Administration (ADESS) to promote card based payment methods. In order to encourage consumers to use card-based payment facilities, ADESS has also been providing sufficient subsidies for food benefits, gas, and electricity, which would considerably impact retail POS terminals industry. the ongoing developments in the retail payment infrastructure across the globe are thus slated boost overall retail point of sale terminals market size, which was pegged at USD 15 billion in 2016.

China retail POS terminals market size, by application, 2016 & 2024 (USD Million)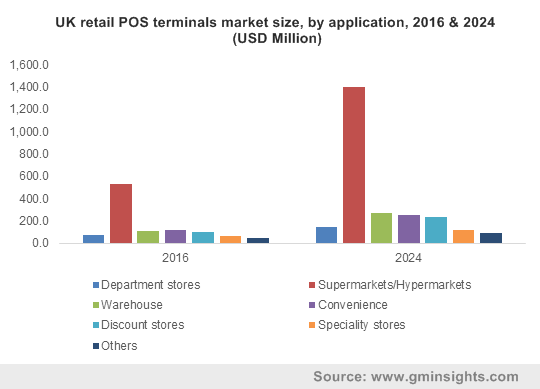 The rise in spending capability, the growing use of debit & credit cards, along with exponential growth in the e-commerce sector across India has favorably influenced the regional retail POS terminals industry share. In 2016, for instance, the Government of India took a significant step forward toward promoting a cashless economy post the implementation of demonetization, which led to the generation of lucrative growth prospects for POS terminals in India, and by extension, had a subsequent impact on retail POS terminals market outlook. After demonetization, it was observed that the demand for POS devices increased exponentially – currently, more than 15 lakh POS devices have been deployed across the country, and many more are likely to be installed soon. Considering the revenue benefits, many start-up companies and tech giants have been making huge investments to accomplish the surging requirement of POS devices across India after demonetization. The advent of this transformative dynamics in the economic strategy of Indian government is likely to have an impact on APAC retail POS terminals industry trends over the years ahead.

In order to provide innovative and fast processing payment services to consumers, retail point of sale terminals market players have been investing heavily in research and development activities and simultaneously, have been partnering with third party application developers. For instance, merely a few days before, Verifone, one of the renowned retail POS market behemoths had collaborated with several software developers such as Ecwid, vPromos, GiftFly, Homebase, and iMobile3 to design and generate non-payment software for its modern payment devices. Furthermore, in order to provide great experience for merchants and consumers, Verifone has decided to implement the M/Chip Fast technology of the Mastercard in all the types of next-generation payment products. The installation of this technology in POS devices is likely to provide convenient and speedy payment services to the merchants and customers for retail, grocery, hospitality, and fast food applications. The growing need for improved payment security along with quicker transaction speed is slated to promote technological developments in retail POS terminals market share. Speaking along similar lines, NCR Corporation, PAX Technology Inc., Cisco Systems Inc., Panasonic Corporation, VeriFone Systems Inc., Ingenico Group, Hewlett-Packard Company, and Samsung Electronics Co., Ltd., are several well-known participants in retail point of sale terminals industry.

The growing adoption of advanced consumer electronics such as mobiles, tablets, smart phones, and computerized POS systems have also had a positive impact on retail POS terminal market outlook. Mobile based payment options such as e-wallets have been gaining mass popularity among consumers, pertaining to their ease of applicability. Considering the technological advancements in POS devices along with improved functionality, users in hospitality and retail sectors are predominantly giving preference to software based point of sale terminals. In addition, the integration of biometric systems in POS devices will noticeably boost the product demand over the coming timeframe. According to Global Market Insights, Inc., retail POS terminals industry will surpass a revenue collection of USD 40 billion by the end of 2024.

As the world traverses toward establishing a cashless society, retailers have been demanding diverse types of payment solutions to attract a wider consumer base and to retain their position amidst the competitive retail business. In this regard, giants in retail point of sale terminals market have conveniently shifted their focus toward product innovation. Given the benefits of a cashless economy such as high effectiveness and productivity, it has been forecast the retail (point of sale) POS terminals industry would carve quite a profitable path in the seven years ahead.

Written By : Sunil Hebbalkar