Consolidation trends have been gaining renewed traction across third party logistics (3PL) market, thereby bringing about a dynamic transformation in the industry. Experts claim that mega-deals across the 3PL market have declined since the past few years, painting a nearly catastrophic image of 3PL industry, however, the business sphere has still been experiencing modest M&As and collaborations, that are being deployed as effective tools for geographical expansion. For instance, in August 2017, Transplace Incorporation, a leading provider of third party logistics and technology services, has been acquired by TPG Capital, a leading private investment organization based in the U.S. The deal, which may close around the end of September, is likely to help the former expand its operations in North America 3PL industry.

U.S. 3PL Market Size, By Solution, 2016 & 2024 (USD Billion)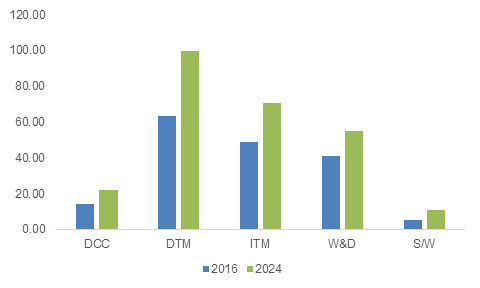 In yet another strategic move, C.H. Robinson, a key player in third party logistics industry, has declared the acquisition of Milgram & Company, a leading provider of transportation, freight, and customs brokerage services across Canada. This deal has been forecast to help the former improve its supply chain activities through effective delivery of logistics solutions. On the other hand, technological breakthroughs have also been increasing the proficiency of 3PL operations across the globe. TMW systems, for example, an enterprise management software developer for surface transportation, has introduced TruRTA, a new trip-planning tool, which projects arrival time, available hours of driver service, and traffic patterns. The device also creates color-coded signals to display potential service failures, and is likely to bring about a modest impact in 3PL industry. Another instance demonstrating the efforts of 3PL market players is that of SSI Schaefer GmbH, a key producer of logistics software & systems, workstation tools, and storage & conveyor technology opening an intralogistics technology center near Shanghai in China. The move may, in all probability, attracting major 3PL industry players across the Chinese subcontinent.

Regional Insights into Third Party Logistics (3PL) market:
Robust road infrastructure that enables effective transit of freight & goods to & from the production plant is expected to impact the third-party logistics operations across the Asia Pacific region. The continent also houses large manufacturing units, while a majority of the warehouse & distribution operations in the area are supported by strong internet connectivity and escalated economic development. With China being a key revenue pocket, APAC 3PL industry is likely to witness massive gains.

The U.S. firms outsource transport and logistics services to the third parties to concentrate on their core competencies. In addition to this, an escalated urge for having just-in-time inventory management system is expected to lay the foundation of a lucrative roadmap for U.S. 3PL industry. Furthermore, the region has established strong trade relations with other nations that will support the expansion of its air freight sector, thereby generating a positive growth map for U.S. 3PL market.
3PL service providers offer a major share of their services through cost-effective modes of transportation such as railways and roadways. Vital governmental bodies across major geographies have been steadfastly promoting these transport modes by means of providing substantial financial assistance to the service providers. Another very essential driver of 3PL market is the rapidly expanding ecommerce sector. This ever-expanding business sphere has prompted the use of airways as a preferred mode of transport among consumers who thrive on quick product delivery. Despite being slightly more exorbitant compared to its counterparts, the increasingly changing preferences of the modern-day consumers have brought about a change in the delivery models of e-commerce firms, thereby propelling 3PL market, by extension. Electronics items, fashion accessories, smart textiles, and similar other products form a major part of air freight.

Cost-efficient and technologically advanced solutions are being adopted by the players across the 3PL industry. These companies are striving to usher in transparency in their transport & logistics services to gain consumer loyalty and satisfaction. 3PL market is highly fragmented, with every player trying to capture a substantial portion of the business share, as stated by a research report compiled by Global Market Insights, Inc. The firm also affirms that 3PL industry is certain to generate a massive revenue of over USD 1100 billion by 2024, having accrued a revenue of USD 750 billion in 2016.

Written By : Dhananjay Punekar