Global Third Party Logistics (3PL) Market size is predicted to touch $1029.47 billion registering a CAGR of 4.4% by end of forecast period. Growing focus on main business activities along with reduced shipping price is predicted to drive the industry. But, many factors like fluctuations in freight sizes and highlights on cost & risk containment is projected to hinder the industry growth.

C.H. Robinson has declared that it is a sponsor of cool global exhibition featuring many outdoor sculptures driving the idea of climate protection. Further, its Warsaw transportation office offers transportation to assure that the sculptures arrived safely. Cool Global exhibition will begin in Warsaw in September 2016 and it includes 16 globes each of which are 2.2 meters high and 1.6 meters broad with weight of each globe being 700 kilograms.
U.S. 3PL market size by service, 2012-2022 (USD Billion)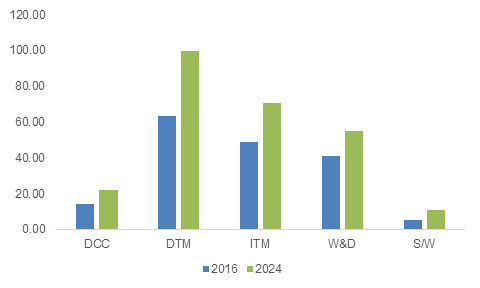 UPS supply chain solutions is going to introduce a distributed on-demand production network which will connect its global logistics network to 3D printers at UPS stores at more than 60 places across fast radius and US. The combination of the technology into single additive production and logistics solution will make 3D printing available to more users helping them to realize the cost effectiveness and user friendliness of this technology. Global third party logistics (3PL) market is segmented into key geographical regions that include North America, Asia Pacific, Europe, Latin America and MEA.

Asia Pacific third party logistics (3PL) market was evaluated around $255 billion for 2014. It is predicted to register more than 5% of CAGR during the forecast period and expected to touch $385 billion by end of forecast timeframe. European industry size is predicted to be evaluated at about $210 billion by 2022 and will register CAGR of more than 2.5% during forecast period. Ongoing crises in Europe are predicted to hinder the industry demand. But growing demand from automotive sector and life sciences industry is predicted to promote the demand in future.

North American industry was evaluated at more than $185 billion for 2014 and predicted to touch $265 billion by end of forecast period. It is predicted to witness high growth due to constantly diminishing labour costs and transport costs in countries like Mexico and US. Rapid technological breakthroughs in logistics software are predicted to fuel the industry growth in future.
Key industry participants profiled in the report include:
• C.H. Robinson Worldwide
• BDP International
• Exel
• XPO Logistics
• Ryder Supply Chain Solutions
• FedEx
• Coyote Logistics
• Americold
• Landstar System
• Burris Logistics
• J. B. Hunt
• CEVA Logistics
• Total Quality Logistics
• Ozburn-Hessey Logistics
• DB Schenker Logistics
• Expeditors International of Washington
• GENCO
• Unyson Logistic
• J. B. Hunt
• Menlo Worldwide Logistics
• Panalpina
• Schneider
• Transplace
• UPS Supply Chain Solutions
• UTI Worldwide

SAP announced a deal with UPS to develop an end to end industry solution. It will make the UPS network technology stronger by integrating its extended supply chain services with on demand production service and global logistics network to ease the production procedure. Due to this SAP users can digitize and simplify the production procedure through SAP and their orders can be easily routed to UPS for manufacturing and delivery.

Download a sample copy of this report: https://www.gminsights.com/request-sample/detail/132
Written By : Dhananjay Punekar